Simplified Home Organization Checklist for Vacations, Staycations, and Everything In Between.
Need to grab a few groceries before your family getaway? The backporch® app makes it easy to keep track of what you have and what you need! Check out this awesome video below to help you learn how to make your next trip to the grocery store as fast and easy as possible— less crowded parking not guaranteed.
When it comes to shared property and short-term rentals, getting everyone on the same page can feel as chaotic as herding cats. Without clear communication on who is supposed to bring what, you can find yourself at a barbeque with no hamburger buns and eight jars of pickles! The backporch app is a fantastic way to plan meals (and maintenance) at your vacation home. Sync up with other members of the group so that everyone knows their part in preparing food and completing chores, and rest assured that nothing and no one will be left out.
Watch the video below to learn more about how to use this feature:
Simplified Checklists for Your Next Get Together
Backporch's Food & Supply feature puts the pantry in the palm of your hand. Snap a photo of your cabinet, fridge, or any part of the property and use it as a point of reference for the next group. We make shared property management a breeze so that you can focus on spending quality time with family and friends.
Step 1:
Open the backporch app and tap the Food & Supplies icon at the bottom of the screen.
Step 2:
Begin building your list by tapping the "+" at the top right-hand corner of the screen.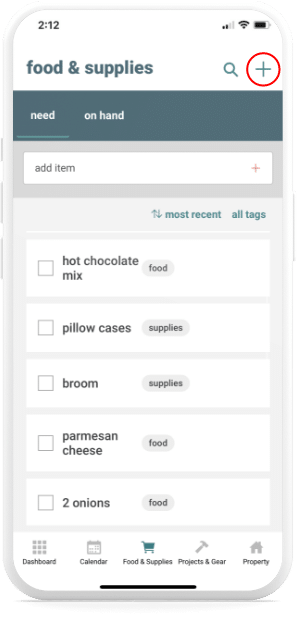 Step 3:
Select "need" or "on hand" – depending on whether an item is needed or already fully stocked at the property, courtesy of the previous gathering. You can also use the in-app chat feature to ask the previous host what's already on hand.
Step 4:
Add item name such as "bacon" and item details like "peppered" or "applewood smoked" to make sure you get exactly what you need.
Step 5:
Select category – food, supplies, or a self-created tag specific to your property. Continue building your list until complete.
Step 6:
Snap a few photos of the property and use them to let the next guest know what you have available, such as bar soap or what they need to bring, i.e. paper towels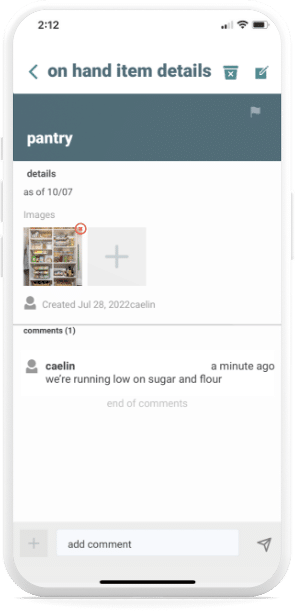 We want to help you make forgotten items and repeat purchases a thing of the past. Download the app so you can get out of the store and back to making memories with your family. See you on the Backporch!